WSOE is a new Esports Organization that's pushing "fight card-style matches that showcase the best games, players and teams across the globe". AKA Prizefights. The official company word paints a very cool direction for the org:
"The WSOE focuses on the drama and spectacle of head-to-head competition between the world's best players from a variety of genres and games across mobile, PC and console. Taking its inspiration from boxing and mixed martial arts, the WSOE will crown champions in several competitive divisions.
Uniquely in the world of esports, and unlike round-robin or bracket-style esports competitions, the WSOE's "fight card" style presentations will feature compelling matchups of champions and challengers going head-to-head in every event.
Also featuring innovative prizing and production elements designed to reward aggressive gameplay and foster rivalries, the WSOE's bouts will offer fans the most entertaining broadcasts in competitive gaming."
You can see this mantra coming through with the PUBG event this weekend. Looking on the image below you can see a list of bounties that can be picked up over the course of the event as well as the core prizing.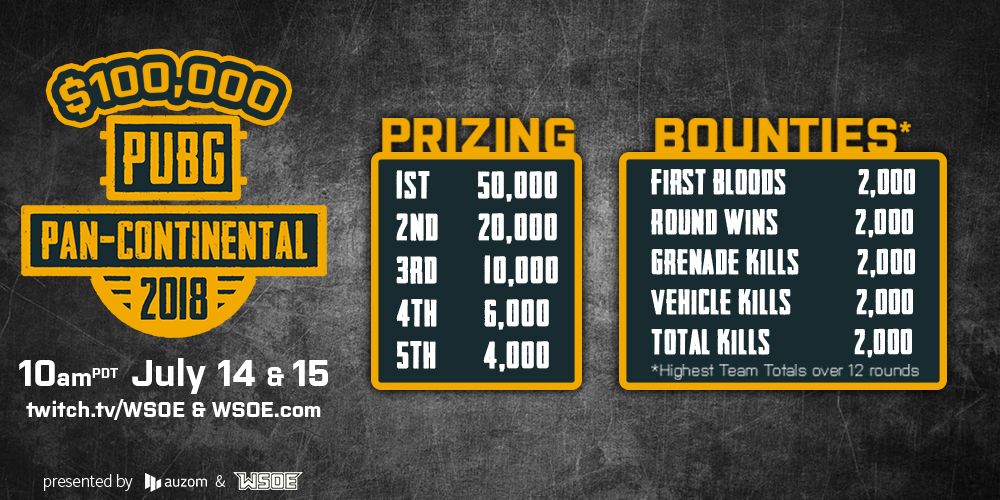 Catch the event this weekend on stream at: www.twitch.tv/wsoe from July 14-15
Show some support for these guys. We need new blood in the space and these title card additions could be great.